Project
Client
Value
Service
CSIR Convention Centre
CSIR
R30 Million
Full Quantity Surveying Services

Project
Client
Value
Service
Oprah Winfrey Leadership Academy for Girls, New School for girls
Gauteng Department of Education / Oprah Winfrey
R 197 Million
Full Quantity Surveying Services

Project
Client
Value
Service
SANRAL Offices, New Offices and Upgrade to Eastern Region Office
SANRAL
R 30 Million
Full Quantity Surveying Services

Project
Client
Value
Service
Coastlands Hotel - Ridge Road, New Boutique Hotel
Coastlands
R 35 million
Full Quantity Surveying Services

Project
Client
Value
Service
Suikerbosrand Nature Reserve - Hotels
Gautrans
R 13 Million
Full Quantity Surveying Services

Project
Client
Value
Service
Nu-Shifa Hospital Upgrade and Extension
Nu-Shifa Hospital
R 30 Million
Full Quantity Surveying Services
BEE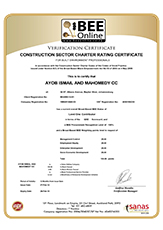 AIM QS BEE CERTIFICATE
aimqs was founded to provide a professional service and to serve as a role model for aspiring young Quantity Surveyors and technically qualified persons in the disadvantaged communities.
aimqs has been continuing its strive for independence, recognition and training before the current positive steps to support previously disadvantaged firms.
The practice is pleased with the results achieved to date with recruiting, developing and supporting technically skilled people from previously disadvantaged backgrounds.
The Practice's current recruitment and development policy is to:
Identify keen and technically suitable people especially from previously disadvantaged communities.
Develop staff technically by encouraging them to gain relevant work experience and to encourage continued academic education.
Empower staff to gain leadership/management skills.
Employ people on the basis of ability, loyalty and subscription to company policies regardless of sex, creed or race.
GENERAL
This practice has also been involved in assisting previously marginalised Contractors with contractual advice, pricing of Bills of Quantities and assistance with overall financial management of construction projects.
The practice has also been involved in assisting religious institutions with providing estimates, Bills of Quantities, contractual and construction advice. In the main the Practice does not charge fees on such projects and our service is largely as our contribution to these projects.